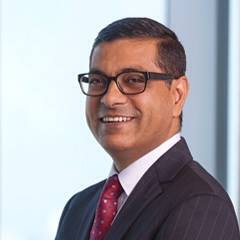 Mohammad Ashfaq Tahir is a Director of the company. Prior to this, Ashfaq has successfully managed operations of various accounting, consulting, private equity and investment banks. Ashfaq specializes in Accounting, Valuation Advisory, Due Diligence, Business Plans/Information Memorandum, Feasibility/Market Study, Business & Financial Modeling, Agreed upon Procedures, IFAC/Review of Projections, Working Capital Management, Financial Restructuring, Capital Structure Design, and IPO/Flotation
Ashfaq is a Chartered Accountant from Pakistan and also holds certifications (CMA and CFM) from the Institute of Management Accountants, the USA, and CGMA and ACMA from the Chartered Institute of Management Accountants, UK. Ashfaq is also an accounting specialist and holds a diploma in IFRS and certification in QuickBooks Online.
Ashfaq has previously worked with EY, Grant Thoronton International, Gulf Investments DIFC, GFH Financial Group, Consulting Centre for Finance and Investment and GulfCap Group.
Areas of expertise
Business Planning, Accounting, Financial Restructuring, Valuation and Fund Raising